The Best Dominican Fruits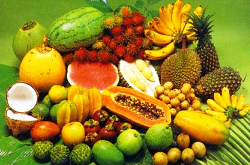 The Dominican Republic is famous for having the best selection of fresh tropical fruit anywhere in the world. It is ripened on the tree under the tropical sun and then picked for immediate sell. When you bite into this tree ripened fruit, your taste buds are in for a major treat, as it is bursting with flavor. It is extra sweet and tangy all at the same time.
If you get away from your hotel, there's a good chance you'll see Dominican children eating super sweet guava and you can buy some yourself. It is one of the most flavorful fruits in the world, especially when it is ripe and fresh.
You'll also easily find passionfruit cut in half and you can just spoon out the delicious pulp, which has a very distinctive flavor you'll never forget. Many beach kiosks carry sea grapes, which can be a bit sour, but in a good way. If you are not from the tropics, you'll find a very wide variety of citrus and bananas to try that you've probably never even seen before. Then of course there are mangos like you've never tasted before.
You may also find other exotic fruits you've never even heard of, such as guanabana (sour sop) and sapodilla. Cashew nuts (cajuil), which are also technically a fruit, are grown in the Dominican Republic and always make a popular food item to take home and share.

Nuts with Coconuts
A delicious and refreshing drink on a warm day is coconut water, which is the clear gelatinous liquid inside a coconut before the meat (nut) hardens. This is something you can hardly ever get in the US, Canada, or Europe, because it would be too hard to ship and store coconuts before they harden. It is a real treat to eat them in this gelatinous state and you definitely don't want to miss the opportunity!