Airport Transfers (PUJ)
Pre-arranged Transfers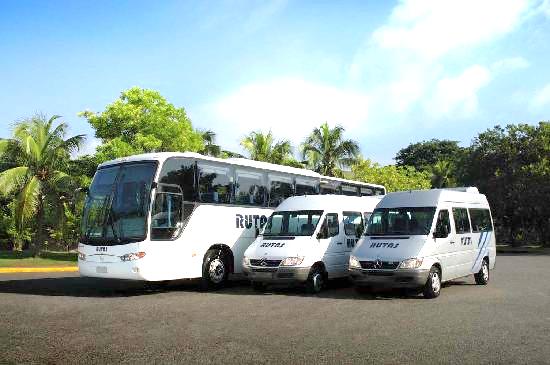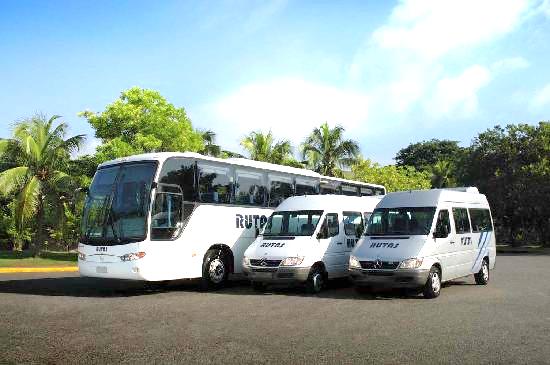 Airport transfers - Pre-Arranged TransfersAs mentioned prior, Punta Cana region resorts do everything they can to make your trip easy, and so many have pre-arranged ground transportation included both to and from the airport. Once you have gotten your luggage and cleared customs, head to the greeting area to your right, and you are likely to be met by your tour company representative and ushered onto a bus that will safely see you to your resort. If you need help, simply ask at the counter.
Independent transfers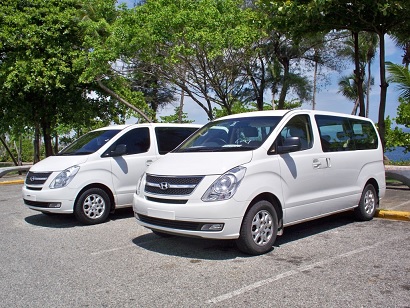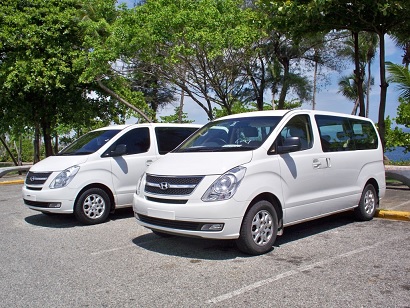 Taxis are available There are, of course, also private taxis and shuttles; all taxis operate by standard rates; make sure your driver operates by them and have a price quoted before you get into the car. If you want to do some of your own exploring, you can rent a car from Avis, Hertz, or Dollar; it's advised to book prior to arrival.
Taxi Prices and travel times to the major resorts
Prices (as of 2013) are for a one way trip, for 1 to 4 people (each additional person is charged us$5 extra). Maximum 8 people per taxi van. After hours: add us$15 for fares to the Punta Cana hotels and Higuey, and add us$20 for longer journeys. No reservations needed: there are always taxis available on the airport.
Taxi Prices and Tavel Times
| | | | |
| --- | --- | --- | --- |
| Uvero Alto Hotels: | Sivory | 80 | 70 |
| | Zoetry Agua | 80 | 70 |
| | Excellence Punta Cana | 70 | 70 |
| | Sirenis Tropical / Sirenis Cocotal | 70 | 70 |
| | Dreams Punta Cana | 70 | 70 |
| | Nouvelles Frontiers | 70 | 70 |
| Macao | Roco Ki | 55 | 70 |
| | Macao beach | 55 | 70 |
| Arena Gorda | Hard Rock Hotel | 50 | 50 |
| | Barcelo Premium Punta Cana | 40 | 40 |
| | Grand Paradise Bavaro | 40 | 40 |
| | Majestic Colonial / Majestic Elegance | 40 | 40 |
| | Gran Bahia Principe / Amber / Bavaro / Esmeralda / Punta Cana | 38 | 40 |
| | RIU Resorts | 38 | 40 |
| | Iberostar Resorts | 38 | 40 |
| | Ocean Blue & Sand | 38 | 40 |
| | VIK Resorts | 38 | 40 |
| | Punta Cana Princess / Tropical Princess | 38 | 40 |
| Bavaro Beach | Paradisus Punta Cana | 35 | 35-40 |
| | Bavaro Princess | 35 | 35-40 |
| | Caribe Club Princess | 35 | 35-40 |
| | Occidental Grand Flamenco Bavaro | 35 | 35-40 |
| | Plaza Bavaro | 35 | 35-40 |
| | Steve's Corner Bar | 35 | 35-40 |
| | Grand Palladium Resorts | 35 | 35-40 |
| | Hotel Cayacoa | 35 | 35-40 |
| El Cortecito | Cruce de Fruisa / Bus Station | 30 | 35-40 |
| | Manati Park | 30 | 35-40 |
| | Cortecito (beach side) | 33 | 35-40 |
| | Cortecito Inn | 33 | 35-40 |
| | Captain Cook restaurant | 33 | 35-40 |
| | Carabela Resort | 33 | 35-40 |
| | Barcelo Dominican Beach / Cana Beach | 33 | 35-40 |
| | Tropical Clubs (Alisos / Sueno / Orquidea) | 33 | 35-40 |
| | Los Corales | 33 | 35-40 |
| | Natural Village Club | 33 | 35-40 |
| | NOW Larimar | 33 | 35-40 |
| | Secrets Royal Beach Punta Cana | 33 | 35-40 |
| | NH Punta Cana | 33 | 35-40 |
| | Cocotal Golf Suites | 30 | 35-40 |
| | Melia Caribe Tropical | 30 | 35-40 |
| | Paradisius Palma Real | 30 | 35-40 |
| | Palma Real Shopping Mall | 30 | 35-40 |
| Cabeza de Toro | Natura Park | 30 | 35-40 |
| | Dreams Palm Beach | 30 | 35-40 |
| | BeLive Punta Cana / BeLive Bavaro | 30 | 35-40 |
| | Catalonia Bavaro / Catalonia Royal | 30 | 35-40 |
| | Hotel Naragua | 30 | 35-40 |
| | Cap Cana | | 35-40 |
| | Cap Cana | 30 | 35-40 |
| | Secrets Sanctuary Cap Cana | 30 | 35-40 |
| | Golden Bear Lodge Cap Cana | 30 | 35-40 |
| Various | Villas Bavaro / IFA Villas Bavaro | 28 | 20 |
| | Barcelo Resorts (Bavaro Palace Deluxe / Bavaro Casino / Bavaro Beach) | 28 | 20 |
| | Cruce de la Metro / Cruce de Coco Loco / San Juan Shopping Village | 25 | 20 |
| | Hospiten Bavaro (Bavaro Hospital in Veron) | 20 | 20 |
| | Veron | 20 | 20 |
| Punta Cana Beach | Club Med | 20 | 10-15 |
| | Corales Punta Cana | 20 | 10-15 |
| | Puntacana Resort & Club | 20 | 10-15 |
| | Punta Cana Marina | 20 | 10-15 |
In this Sector: